Homeowners sometimes maximize their livable space by redoing their basement. Basements can be great for adding an extra bedroom, building out a laundry room, a children's playroom or even a man-cave. However, you must incorporate flooring materials that meet the challenge of below-ground environments.
Basements typically are damp, humid, and dusty environments that sometimes have occasional flooding. This can generate high mold and mildew counts. So, the primary concern with basement flooring is moisture. The best flooring for a basement is immune to moisture, can resist humidity and won't be easily damaged if a flood occurs.
Carpet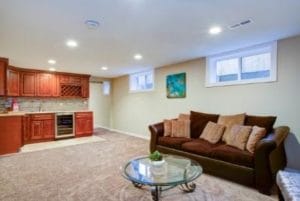 Carpet is the warmest flooring option, making it ideal for covering a cold cement floor. Since it is warm, soft and cushioned, it is an excellent option if you have children who play on the floor. Not to mention, it also improves sound quality for the perfect man cave home theater. Though carpet can dry if it becomes wet, it usually takes industrial de-humidifiers to get it dry quickly before mold develops. However, the pad will need replacing and the carpet re-installed, which one out of five times is not possible. This is a common concern with higher moisture levels in basements.

Hardwood
Solid hardwood is not suitable for installation in a basement and will never be warrantied. Basements are just a humid and water-prone environment in general, and water and wood do not mix. Moisture can cause cupping, swelling, warping and splitting. Only engineered hardwood can be used successfully in a basement if you don't have water and moisture issues.
Luxury Vinyl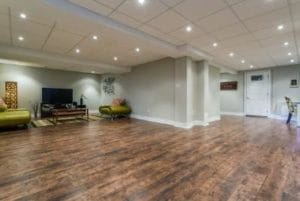 The best type of flooring for basements is luxury vinyl. Luxury vinyl flooring comes in vinyl plank and vinyl tiles, giving it the ability to look amazingly like many hardwood species and stone products. It is less expensive than hardwood and warmer to the touch than ceramic tile. Vinyl flooring is made of PVC with a thick wear layer making it durable. Vinyl in the basement, if glued down direct to the cement, is 100% waterproof. Floating luxury vinyl is also 100% waterproof. However, if there is excess water, it will get below the floor - which means it will have to be pulled up and dried out then re-installed. The preference for LVT in the basement is glue down direct. Luxury vinyl does not always carry the same home resale value as natural hardwood or tile but is a beautiful flooring material.
Tile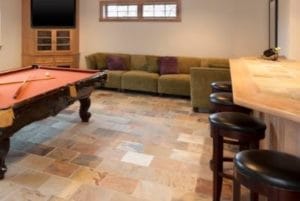 Tile can be an excellent option for basement floors. It installs directly on the concrete subfloor, is entirely waterproof and will last forever. The styles and designs you can create are endless. There are even large-format porcelain tiles that mimic the look of hardwood planks. Tile is known to have poor sound absorption qualities. However, if you want to sell your home, tile has a higher resale value than luxury vinyl. Tile can be cold underfoot, but radiant heating can bring the comfort of warm floors to a cold basement and a fantastic energy-efficient heating solution. Tile can be expensive and can need significant leveling before installation. 
Laminate
Laminate is an option for places that won't see much moisture because it is highly susceptible to water damage. Full bathrooms and basements prone to leaks and flooding are not recommended for traditional laminate flooring. Laminate consists of pressed wood, hence it not doing well around moisture just like hardwood. Even water-resistant laminate floors are still not as resistant to moisture as vinyl. 
Tip
Do a moisture test before deciding on any new flooring. You'll need a garbage bag and some packing tape. Use scissors to cut open a garbage bag. Place it on the basement floor and tape it down along the edges. After two days, check if there's moisture gathered under the bag. If there's moisture, chances are you'll have a mold and mildew issue. Floors that are not water-resistant can be destroyed in time.
Water-Resistance is one of the most critical factors that come into play when determining the most suitable flooring type for your basement. Basements are rooms that are prone to moisture and flooding. That's why most households decide to install water-resistant floors. Ask one of our Flooring Consultants at Creative Carpet & Flooring to review all the flooring material's pros, cons and features. We can help you make an educated decision in selecting the best basement flooring material for your home.