In 1990, with two small boys and a third on the way, my wife Tammy and I opened our doors for the first time. Now, over 30 years later, with five boys, we have grown into a true family business.
Our oldest son, Mark Jr., has been working side-by-side with me for over a decade now, managing sales and day-to-day showroom operations.
Jake, our third oldest, is our Chief Operations Officer taking care of the company's receiving, shipping, inventory, quality control, orders and deliveries. You will also find him out in the field, overseeing installations when needed.
Our fourth oldest son, Clay, joined the business not too long after graduation from high school working in our warehouse. He is a certified personal trainer in his spare time.
Our youngest son, Cody, joined the business immediately after graduation from high school, starting in our warehouse, but finding his niche as a Flooring Consultant.
By doing a little counting, you may have noticed one of our sons missing from the team. Our second oldest son, Kyle, has found his talents lie in a completely different industry. While we miss having him in the family business, we are happy to see him doing what he enjoys most and couldn't be prouder!
Through it all, Tammy has managed the "business" side of things. During our early years, she was able to accomplish this part-time while raising our children. Over the years, as our business has grown and our children have grown into adulthood, she has transitioned to running the company's administrative side full time.
As we have grown, our extended "family" has grown to include all our fantastic team members and wonderful carpet and flooring customers. Tammy and I have raised our family to treat others with respect and integrity and not to be afraid to work hard for what you want. It is these family values that we bring into our business. We promise to treat you just like family and commit to always look out for your best interest. We welcome you to visit one of our showrooms and let us help you with your flooring needs.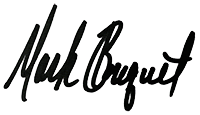 Mark Bouquet, Sr
Owner, Creative Carpet & Flooring