Laminate
Laminate flooring has grown in popularity because it is easy to maintain, has a durable surface, and is typically on the inexpensive side. Laminate is great for high-traffic areas. It resembles natural materials and is available in a wide range of designs and colors.
Browse Laminate Samples
Creative Carpet & Flooring Laminate Flooring is an Affordable Option That Mimics the Appearance and Feel of Hardwood and Stone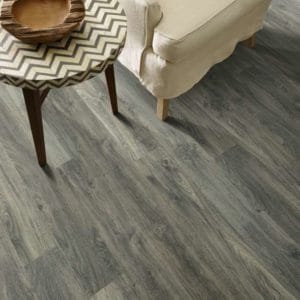 It is a durable flooring resistant to stains and scratches, ideal for busy homes with children and pets. It looks beautiful, the cost is reasonable and maintenance is easy. Laminate flooring is available in finishes like walnut, oak, pine, maple, and more. There are even some available in stone and tile finishes. No matter what your design style there is a laminate flooring can check all the boxes.
There are four layers to laminate flooring. The base is the first layer that stabilizes the product. The core layer consists of a thick, dense fiberboard. The graphic layer is the third layer that has an image like oak planks. The top layer is the hardwearing, durable laminate coating.
Laminate Flooring is Strong, Stable, and Moisture Resistant
Even though laminate flooring is moisture resistant, you need to protect your laminate floor by wiping up wet spills immediately. Using placemats under pet dishes and highchairs would be helpful. Keeping pet's nails trim is also a good idea to avoid scraping the protective layer of your laminate flooring.
Creative Carpet & Flooring has a variety of laminate flooring products from manufacturers like Shaw and DDCC GreenTouch. We have several samples available in our flooring stores so you can see for yourself how much laminate resembles real hardwood flooring.
Laminate flooring is an excellent choice for your home. Stop into one of our flooring stores today to choose from our variety of laminate flooring. Our professional installers will ensure a proficient installation with a stunning outcome you will love.