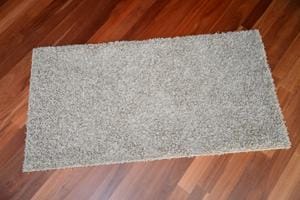 An area rug is a floor covering placed in a room that can cover the entire floor or only a portion. Above all, rugs are a stylish way to add warmth and style to your home. They can be made from many different materials, such as wool, cotton, sisal, and jute. Area rugs are perfect to add to your decor and come in several different colors and shapes.
Benefits of area rugs
Area rugs are a stylish way to add warmth and style to your home. Some benefits of area rugs: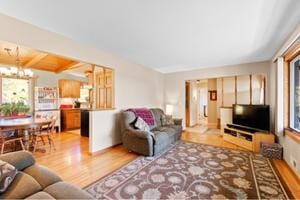 - Area rugs are less expensive than carpeting
- An excellent way to add warmth and style to your home
- Comes in a variety of colors, textures, and shapes
- Great for high-traffic areas
Handmade area rug types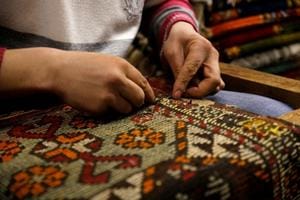 Human hands, not machines, make handmade rugs. Handmade rugs can be:
Hand-hooked rugs are pieces of art that are handmade by skilled craftsmen, who create the rug with a loop pile that is thicker than most woven rugs. This creates a nubby, soft texture on the surface of the rug.
Hand-tufted rugs are constructed in the same way as hand-hooked rugs. The rug maker starts with a large canvas and sinks wool or nylon loops into it. The loops are then tied to a large hook and pulled tight, drawing them up through the canvas.
Hand-knotted rugs are usually made by hand and have a precise and detailed design. These are one of the most elegant types of rug available. You can use them in any room of the house, regardless of style or size.
Flatweave carpets are woven on a loom or handmade by an artisan. They are a type of rug with the pile on one side and the warp threads on the other. You can use them as a wall decoration or as a flooring material. Flatweave rugs are inexpensive. They are lightweight and easy to clean. They do not have a pile and, therefore, never shed. Some categories of flatweave rugs are needlepoint rugs, hooked rugs, Panja Dhurrie rugs, Aubusson, & chain stitch rugs.
Different area rug fibers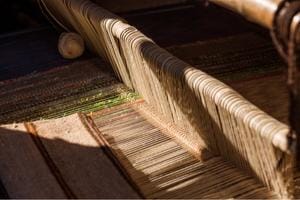 Area rugs come in an assortment of types. Natural, synthetic, and even blended fibers give you more options and play with the textures. Some natural fibers are wool, real silk, cotton, jute, sisal, and seagrass. They also include leather, faux fur, and faux hide rugs. Some synthetic rug materials are polypropylene, polyester rugs, and nylon.
Wool rugs are the original form of rug, dating back thousands of years. This fiber, obtained from sheep, is a natural fiber. They are effortless to clean. They can last more than a hundred years if taken care of correctly. These days, wool rugs come in a variety of synthetic fiber combinations. Blended fibers create carpets and rugs that are inexpensive yet durable.
Area rug materials to avoid
Different factors depend on what rug materials are okay and what to avoid. For high foot-traffic areas, steer clear of fiber rugs like silk, rayon, or viscose. For outdoor and bathroom flooring, stick with nylon instead of wool and avoid materials like jute. Sometimes, but not always, manufacturers treat synthetic rugs with chemicals. If you or a family member suffer from allergies, synthetic fibers might not be the most suitable choice. 
Types of area rug piles
The rug pile refers to the thickness of the fiber in the rug - an area rug can be a low or high pile. Hand-knotted or handwoven rugs have a pile, while flatweave rugs do not.
Types of expensive area rugs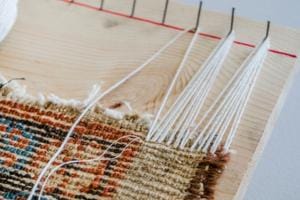 Area rug cost is determined by the fiber type or by the quality of the rug itself. For instance, silk rugs are expensive. Wool from New Zealand is one of the finest wools among other wool types. The higher the quality of rug material and the more time and labor put into making top-quality rugs, the more costly it is. Some high-quality hand-knotted regular-size rugs may take 6-8 months to produce them.
Where to Shop for Area Rugs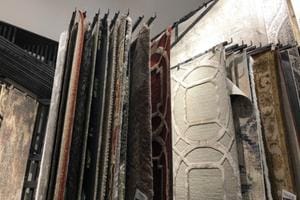 Area rugs are a stylish way to personalize your home. They come in many different shapes and sizes. You can find them in any color, material, or pattern. There are many places where you can buy area rugs. You can visit an online store or a store near you. Visit our online store at shop.creativecarpetinc.com and see the vast selection of area rugs available today! We hope you find this helpful. If you have questions, contact one of our knowledgeable Flooring Consultants.