If you can't find an area rug at our Mokena or Highland store to compliment your décor, look again. We can make just about any carpet in our showrooms into an area rug! "Why," you ask? Well, there are several reasons you would want to add an area rug to your home. First, rugs offer warmth and comfort while walking, sitting, and lying on them. At the same time, they protect the flooring underneath from traffic, spills, and abrasive soils, slowing down the wear process and protecting your flooring. What other purposes do area rugs serve?
Absorb Impact and Safety –
Area rugs feel cozy and soft, but they are also very flexible. This flexibility causes the rug to absorb the impacts of your movements and takes the pressure off your body. You will want a softer area for young children to sit when playing or relaxing. An area rug is perfect because it allows for some comfort on the ground without compromising your overall design. It gives kids a bit of cushion for romping around and reduces their chances of getting hurt. They provide a soft landing and sleeping place for pets. They also muffle the sound they make moving from room to room and provide your pet with a warm, soft place to nap.
Absorb Sound –
Rugs help with soundproofing. They dampen vibrations, reducing sound transfer to some extent. They're a fashionable way to deflect noise and add value to rooms. Shoes, furniture, toys, and pet feet are quieter on rugs.
Allergies –
Carpeting improves the air quality in homes by trapping dust, pet dander, and other pollutants that generally fly through the air. And if you vacuum your carpets regularly, you won't have to worry about them finding their way back into the air. The most reliable rug option for allergy sufferers is synthetic polypropylene rugs. They specifically make polypropylene fibers to repel allergens and inhibit mold growth, meaning that they won't house or release allergens into the air.
Cover Stains –
Covering a stain with an area rug doesn't require costly repairs or color matching. This resolution could potentially save you time and money. It may even enliven the room's appearance and give it a whole new look.
Keeping the Space Clean –
The most effective and easiest way to protect your hardsurface flooring and keep it clean longer is to utilize mats and rugs throughout the home. Position mats at all entrances to keep water-saturated or muddy shoes from walking onto your floors. Placing a mat at the base of your sink will protect your floor from splashing water.
Tie Together Room's Color Scheme –
Complete a room by visually connecting all the various elements. A rug holds a room together by anchoring all the furniture. An accent rug under the dining table and chairs instantly defines the eating area. Adding furniture with a rug to other room areas helps create separate groupings like eating, entertainment, or play. Consider a large rug that allows all or just the front legs of the furniture to rest on the rug. Everything that touches the rug ties to that room, a simple trick but an impactful one.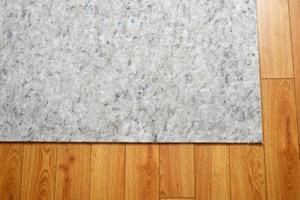 TIP – A non-slip rug pad is the most effective way to prevent someone from slipping on a rug that is not properly gripping onto the floor. In addition to being an added safety measure, rug pads hold your area rug in place during vacuuming and moving furniture. Rug pads boost cleanliness. Rug pads prevent scratches from the area rug that can ruin the flooring underneath. Also, the added cushion and support provided by a rug pad can help keep the pile from crushing, helping the rug look more attractive and last longer. Area rug pad can be ordered at our Mokena or Highland showroom, or at our online store.
A stylish area rug should be more than just purely decorative; it should also help create a focal point in your living area. Positioning a rug in the proper spot can make a difference in your room's overall look and feel. If you can't find the area rug you want at our Mokena and Highland stores – check out our ONLINE store! Most of our online area rugs are exclusive to our online shop.