All-season room flooring needs to withstand gentle exposure to nature. Consequently, this creates a challenge because the flooring needs to withstand the elements of cold, heat, moisture and sun. The flooring should resist fading, peeling and scratching. Furthermore, it should match your décor taste!
Carpet and Area Rugs
Pros: Carpet and rugs are excellent for cold locations. The best wearing carpet and area rugs for an all-season room are indoor/outdoor. They have come a long way since the days of bristly carpet resembling grass. You'll find attractive indoor/outdoor carpeting and area rugs in neutral colors that resist mold, UV damage and stains.
Cons: It is not a wise option for detached rooms or rooms that are open to the outdoors because they are harder to clean.
Hardwood
Cons: Hardwood is affected by humidity and fluctuations in temperature. The wood is more prone to swelling in cool and damp weather, but it tends to shrink in a warm and dry room.
Laminate
Cons: Can warp under high temperatures.
Tile
Pros: You can install tile flooring easily over concrete or subflooring. Tile provides the best value in terms of waterproof flooring. It is the best overall flooring material that performs well in a room subjected to significant sun exposure. Tile remains temperate even during extreme weather conditions. In addition, tile doesn't fade and is durable even for busy all-season rooms. You can find a great design or color that matches your desired all-seasons room look.
Cons: It can be cold during the winter when walking barefoot, especially on unheated tile floors. That being said, indoor/outdoor area rugs are the perfect solution to warm up your all-seasons room tile flooring.
Vinyl
Pros: Luxury vinyl flooring is excellent for extreme weather conditions. Vinyl floors are waterproof so that freeze-thaw issues won't be a concern. Luxury vinyl flooring has additives that bring dimensional stability preventing damage to your plastic floors. In addition, you can choose from several designs like brick patterns to wood floor planks that look just like the real thing.
Cons: Luxury vinyl sometimes can dent with hefty furniture. Use felt furniture pads to reduce the direct pressure on your vinyl all-season room flooring. Another disadvantage of vinyl floors is that they can sometimes fade over time, even with premium-grade products.
TIP: Tint windows in addition to using insulated drapes. Tinting will help protect your flooring from UV rays. Using insulated drapes in conjunction with the tint will help you control the all-season room's temperature.
So, what is the best all-season room flooring?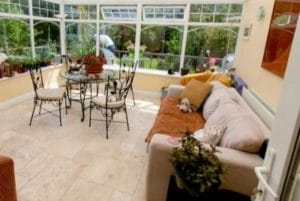 Carpet, area rugs, tile and vinyl are great for all-season rooms. However, tile is the best since it doesn't warp or expand under the sun. Tile handles temperatures exceptionally well, too. It doesn't get too hot or cold, so it remains balanced throughout the various temperature fluctuations. Additionally, tile is water-resistant, making it perfect for humid climates. Not to mention, tile comes in many compositions to match any décor.