Which flooring is more scratch-resistant?
By Autumn Sibo,
Scratch-resistant flooring is an absolute necessity for anyone with children, pets and just life in general. However, finding the perfect floor can be a challenge with all the different flooring types on the market. Let's narrow it down to the best four scratch-resistant flooring options to help you choose the right scratch-resistant flooring for your home.
CERAMIC AND PORCELAIN TILE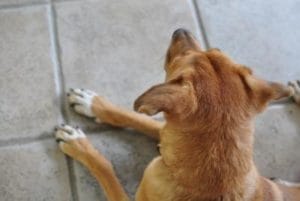 Tile made from ceramic or porcelain is the most scratch-resistant flooring. Ceramic tile is made of fired clay, and it's a hard and durable substance. Porcelain tile is a type of ceramic, but they make it from a more cultivated clay and bake it at higher temperatures. This makes it a tough scratch-resistant flooring choice. Unglazed porcelain is the best when it comes to scratch resistance. Tile is easy to maintain and water-resistant.
LUXURY VINYL PLANKS AND TILES
Luxury vinyl planks or tiles are an excellent scratch-resistant flooring option. It is durable, affordable and easy to care for. They construct luxury vinyl from multiple layers of synthetic materials - the base layer is rigid or semi-flexible, the design layer is the picture of the tile or wood and a transparent protective wear layer. The top protective wear layer is made from a durable material that will help protect your floor from scratches and damage. Luxury vinyl can mimic wood or even tile and stone, giving you a ton of décor options. Not to mention that it will even absorb some sounds, making it ideal for many busy homes. But the best part is its water-resistance!
LAMINATE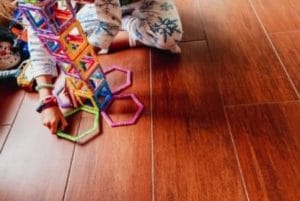 Laminate is a stylish and sturdy hardwood floor alternative that is affordable, scratch-resistant, scuff resistant and water-resistant. It is available in all the same hardwood colors and finishes. Laminate is a synthetic floor material that looks like wood and is processed together in planks. It has a base layer, image layer and wear layer. Like vinyl, the wear layer is what makes laminate so scratch-resistant. One downside, it is not waterproof. If water would happen to seep between the planks and the base layer gets wet, it could swell and ruin your floor. However, it is extremely hard, so it's great with anything else you can throw at it.
CARPET TILE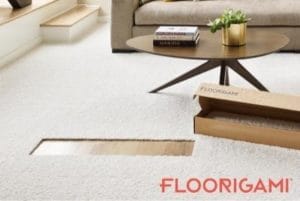 Another consideration could be a temporary solution to protect your floors – Shaw's Floorigami peel-and-stick carpet tiles. These are an excellent solution if you're looking for a quick cover because they're so easy to install and remove. Just clean the floor, peel off the backing and place them where you want them. It doesn't get much easier than that! Carpet tiles can also absorb sound, which is nice with children and pets.
There are tons of scratch-resistant flooring options out there, but what is the best fit for your home? The knowledgeable Flooring Consultants at Creative Carpet & Flooring will ask about your home, foot traffic, pets and children. They will also ask about your budget and design ideas. That way, they can offer the right advice and the best scratch-resistant flooring for you. Visit our Mokena, Illinois or Highland, Indiana showroom to get answers or schedule your free one-on-one showroom consultation on our website today!