What is Wood Plastic Composite Flooring?
By Autumn Sibo,
Wood-polymer or wood-plastic composite flooring (WPC) is one of the most popular options for vinyl flooring. It's comfortable, robust, and relatively inexpensive compared to the many types of flooring it can mimic. Wood-plastic composite flooring is a type of luxury vinyl plank flooring with a specific kind of luxury vinyl core. Before we delve into wood plastic composite flooring, we must discuss where it all began.
Luxury Vinyl Tile and Luxury Vinyl Plank Flooring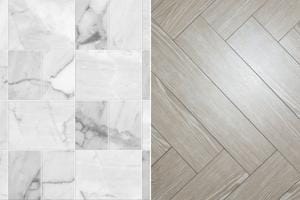 Luxury vinyl is a waterproof PVC flooring that is relatively inexpensive, durable and made primarily of plastic or PVC. It is frequently created to mimic the look and feel of hardwood planks called luxury vinyl plank (LVP). It is also available as luxury vinyl tile (LVT), mimicking the look and feel of actual tile flooring. LVP and LVT are the same in that they are both luxury vinyl products with a rigid or flexible core. The only contrast is that LVP comes in planks and LVT comes in tiles.
Luxury vinyl is usually made up of 3 or 4 distinct layers:
WEAR LAYER – The wear layer protects the floor against scratches, dents, fading, and stains.

PRINT LAYER – The print layer is a high-quality image that mimics the look and texture of hardwood or tile.

CORE – The core layer provides the basis for the floor. The core layer can be flexible or rigid, depending on the product.

ATTACHED UNDERLAYMENT* – Absorbs sounds and adds comfort underfoot.

*Not all vinyl flooring has or requires an underlayment.
While not always necessary, most WPCs can benefit from an underlayment to add additional comfort and sound absorption. Some brands even come with an underlayment attached.
Wood Plastic Composite Flooring
Wood-polymer or wood-plastic composite flooring (WPC) is a rigid-core luxury vinyl flooring. Because it is rigid rather than flexible, it is more durable and similar to natural wood or tiles. WPC cores are a mix of wood flour (a type of super-fine sawdust) and hardened vinyl making it springy, comfortable, and highly durable. In a nutshell, WPC is a type of rigid-core LVP and LVT. WPC Flooring Advantages:
Comfort:

 Its wood and vinyl composite core offers the spring and bounce you'd find in many types of wood flooring. WPC flooring's soft but durable core absorbs the energy of your footsteps, making it more comfortable for you to walk on. WPC is a bit comfier for pets to sleep on, too. An older cat or dog might enjoy a WPC floor compared to a hardwood or tile one.

Quiet:

 It is a quiet flooring because of its softer surface. Less sounds "bounce" off of it, so noise does not travel as far. This absorbing power of WPC flooring keeps voices from traveling far and echoing less.

Warmth:

 It's more insulated against temperature changes. The walls and subfloors of your home should take care of the brunt of the insulation responsibilities, but WPC flooring provides an ounce of insulation too. The wood flour in WPC flooring offers better insulation against temperature changes. It won't feel cold underfoot in the winter.

Décor:

The sky is the limit when designing with WCP. You can buy WPC flooring in just about any style or color imaginable. Additionally, most WPC flooring options mimic any hardwood at a reasonable price point. Yes, even the exotic hardwoods like Brazilian cherry or tigerwood, but at a fraction of the cost. Even hand-scraped, wire-brushed, distressed, and bleached wood floor styles can be found. If you are looking for tile options, you can get the look of nearly any type of tile imaginable in a vinyl product, too.

Installation:

Installation is pretty straightforward to install if the layout is simple. You can install WPC vinyl as a glue-down, loose-lay, or click-together "floating" floor like luxury vinyl. Turning WPC into magnetic flooring using magnetic strips and underlayment is also possible. However, we highly recommend professional installation. You must cut flooring pieces to complete a trim or place them on stairs. WPC is so durable that you must use expensive, high-powered tools to cut through it. Cutting it cleanly requires the skills of a professional.

Durability:

 WPC is durable and scratch-resistant. It is more durable than some wood flooring. This would be a fitting place to point out that scratch resistance pertains more to the wear layer than the core layer.

Waterproof: 

Just like most luxury vinyl, WPC is waterproof. The only issue would be if the installation isn't done correctly, letting water seep between the vinyl planks. Even though the core contains "wood flour," it is mixed with vinyl so it cannot get wet. WPC flooring is excellent with pets and kids and the accidents that are bound to happen. You can install WPC vinyl flooring just about anywhere in your home. It is ideal for use in bathrooms, laundry rooms, or mudrooms since it can stand up to water.

Maintenance:

 WPC flooring is easy to maintain. You can keep it looking fantastic with a regular vacuum and damp mop. Make sure to dry mop or vacuum before wet cleaning to remove as much dust, dirt, and other debris as possible. In addition, make sure to use a special hard surface vacuum or remove the beater bar before vacuuming. Otherwise, you will scratch up the wear layer and wear it out!

Cost:

WPC flooring tends to cost more than standard LVP or LVT, but not much. There are decent options available that won't break the bank. Compared to the cost of hardwood flooring, WPC offers a cheaper way to achieve a wood-floor look and feel with the additional benefits of enhanced durability and waterproofing. In the grand scheme of things, WPC flooring feels like a steal.

Less volatile organic compounds (VOCs): 

While most vinyl isn't exactly environmentally friendly flooring, it's better than it was a few years ago. VOCs are harmful chemicals emitted by most plastics and adhesives and are common in many types of flooring. However, there have been strides in the world of low-VOC flooring recently. More than a few leading WPC flooring brands now sell low-VOC vinyl flooring.
WPC Thickness Matters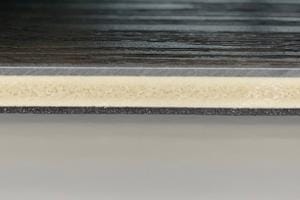 Core thickness matters, but it's not as simple as "the thicker the core, the stronger the product." Thin-core WPC flooring can be stronger than thick-core WPC if it's made with better materials. That said, the most popular vinyl plank floor brands usually sell products that have durable materials and a solid core.
Wear layer thickness is critical in any luxury vinyl product, too. However, not all wear layers are the same between brands. Some brands offer "super thick" wear layers that don't provide much protection. There are many types of wear layers with different degrees of protection. The most reliable products explain what their wear layers consist of and why. Of course, any of our knowledgeable Flooring Consultants can help you with this.
Best Wood Plastic Composite Flooring Brands
There are tons and tons of flooring brands that offer WPC-core products. A few recommendations we have are Floorté Classis Series by Shaw Floors , COREtec Original, and ADURA®Max by Mannington.
All in all, WPC vinyl flooring is a fantastic substitute for hardwood and tile. It's cheaper, waterproof, and incredibly comfortable. Nearly all leading vinyl plank flooring brands make it, and finding a more durable product isn't easy. WPC vinyl flooring has a vinyl and wood flour core, making the floor tougher against damage but softer on your feet and joints. It is entirely waterproof and suitable for just about any room in your home. Stop into one of Creative Carpet & Flooring's stores to see wood plastic composite flooring for yourself and why it's all the rage.