Luxury vinyl flooring is a composite material made from materials like plastic, fiberglass, and PVC and typically comes in planks or tiles. A core layer with an underlay or backing makes up the bulk of the floor. Over the core is an image layer that mimics many flooring materials like ceramic and wood. The top wear layer of varying thickness protects the layers underneath from damage.
Cost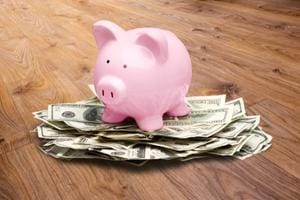 Vinyl flooring is waterproof and relatively inexpensive, making it an affordable alternative to hardwood or stone flooring. Luxury vinyl costs about $7 to $14 per square foot. As with any flooring, the cost is higher for high-quality or customizations. However, it is much cheaper than installing actual hardwood or tile flooring, making it a cost-effective flooring option.
Design
Design options with luxury vinyl flooring are incredibly versatile. You can purchase luxury vinyl that mimics other flooring materials like hardwood and tile. Luxury vinyl flooring has a broad spectrum of textures, styles, and colors. 
Installation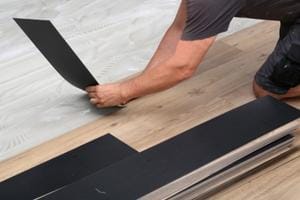 Luxury vinyl tiles and planks are generally installed as a floating floor or glued down. While it may seem cheaper to do it yourself, a professional is well worth the time and energy saved.
Lifespan
There is a wide range of how long vinyl flooring can last. It depends on the initial installation process, flooring quality, wear layer thickness, and maintenance. The average lifespan of luxury vinyl typically lasts 20+.
Maintenance and Care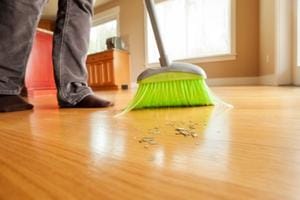 Vinyl flooring is relatively easy to maintain. Vacuuming (without a carpet beater bar), sweeping, and using a damp mop are generally adequate measures to keep your floor clean. Avoid acidic, abrasive, and oily cleaning products. As with any flooring, clean up spills and messes immediately, use mats and rugs, and utilize protective pads on furniture legs. 
Brands
Some manufacturers we carry include Casabella, COREtec, Engineered Floors, GreenTouch, Happy Floors, Karndean, Mannington, Shaw Flooring, Southwind, Stanton, and more. These companies are reputable but research the specifications of your floor as quality can vary between different production lines.
When looking for high-quality vinyl flooring, keep an eye on the thickness of the wear layer. The thicker the wear layer, the longer your floors will last. In addition, check for a solid warranty because it will save you money in the event of damage. The better both specifications are, the more you can expect to pay. However, you will have your flooring longer, saving you in the long run.
Pros and Cons
Pros
The highest quality vinyl flooring is water-resistant and low maintenance with prolonged durability. Luxury vinyl has a protective PVC layer that won't usually stain or wear out, making this a practical flooring option for high-trafficked areas. Some brands manufacture 100% waterproof vinyl floors, which are excellent for bathrooms, laundry rooms, mudrooms, and basements.

Compared with other flooring options like hardwood or tile, vinyl has a "softer" and more "padded" feel underfoot due to its layer composition.

In addition to helping insulate your floor, LVT or LVP layers help maintain a constant temperature all year. Vinyl can also be sound resistant and reduce the transfer of sound, suppressing echoes that would otherwise be heard in the room.

Luxury vinyl flooring has a wear layer that is designed to resist scratches and stains. It's wise to use a 12-mil wear layer for high-traffic areas. 

Vinyl is more affordable than the flooring it mimics, like hardwood or tile.
Cons
Unlike hardwood flooring, you cannot refinish vinyl flooring because it consists of a single wear layer over the design layer. 

Once a vinyl floor is damaged, you will have to replace it. Unfortunately, this could mean anything from the affected tile or plank to the entire floor, depending on the damage and the type of vinyl you purchased.

LVP and LVP do not always add resale value to a home. However, when dealing with low-quality luxury vinyl, it may have a negative impact on the home's resale value.

Manufacturing vinyl flooring requires harmful chemicals called VOCs (volatile organic compounds). These chemicals may be emitted into the air after the installation process. Off-gassed VOCs can adversely affect health. An indoor environment without windows or ventilation will lead to higher concentrations of VOCs. If you are concerned about VOC, we recommend that you opt for low-VOC flooring instead.
Vinyl is an excellent choice if you are looking for a floor that is waterproof, durable, comfy to walk on, and easy to maintain. However, vinyl flooring is not the longest-lasting flooring out there. The better quality vinyl can mimic other flooring materials quite well, but the less costly ones not so much. In addition, if being eco-friendly is a priority to you, you might have to consider another flooring option. 
Browse our vinyl flooring collection online and use our room visualizer to see our products in your space. You can also schedule a free one-on-one showroom consultation and see our flooring products firsthand at our Mokena, IL, or Highland, IN store. Walk-ins are always welcome, too. Whatever your preference, please reach out to one of our knowledgeable Flooring Consultants to help you select the right flooring for your specific needs.