What is the cost to have flooring installed?
By Autumn Sibo,
The total flooring cost depends on the flooring material used and labor factors. For example, hardwood flooring is pricier than carpet. The cost of labor depends on the project's scope. Installation on stairs and other complex projects will increase the labor cost. Below is an idea of the total cost by flooring material and straightforward installation.
Hardwood
Average cost installed $6 to $26 per sq. ft.
Hardwood flooring is beautiful, making it a design favorite. It can be refinished for a refresh. Hardwood does not attract or retain dirt and microbes. In general, hardwood is a great return on investment. There is solid hardwood, engineered wood, and various species of wood flooring to choose from.
Tile
Average cost installed $10.50 to $15.50 per sq. ft.
Tile flooring is water-resistant, durable, and easy to maintain. It works well with radiant floor heating installations. Tile floor installation costs vary greatly depending on the material. Some specialty tiles are much more expensive.
Carpet
Average cost installed $3.25 to $12.50 per sq. ft.
Carpeting provides good insulation and helps reduce noise. It is fairly low maintenance, besides vacuuming and occasional carpet cleaning.
Laminate
Average cost installed $5 to $9.25 per sq. ft.
Laminate flooring is durable and low maintenance. It is a good alternative for wood, stone, or tile without the high price tag.
Luxury Vinyl
Average cost installed $3 to $9 per sq. ft.
Luxury vinyl flooring looks like hardwood or tile without the expense. It is waterproof and easy to clean.
Flooring Labor Rates
There are labor cost factors to consider when calculating the labor rate for your flooring projects: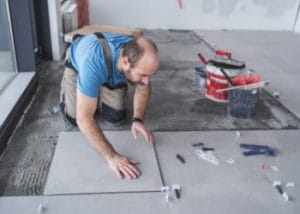 Type of material
Sales taxes or import fees on materials
Difficulty of project
Distance to the job site
Amount of prep work required
Cost of new subfloor and baseboard (if needed)
If the existing floor needs to be removed before work can begin
Testing and remediation of hazardous materials (if needed)
Talk to one of our knowledgeable Flooring Consultants at our Mokena, Illinois, or Highland, Indiana showroom. We can help you find out what will work best in your space and give you an accurate quote.